Allison Holker & Stephen 'Twitch' Boss Hosted Ultimate Holiday Dance Party to Benefit CMN Hospitals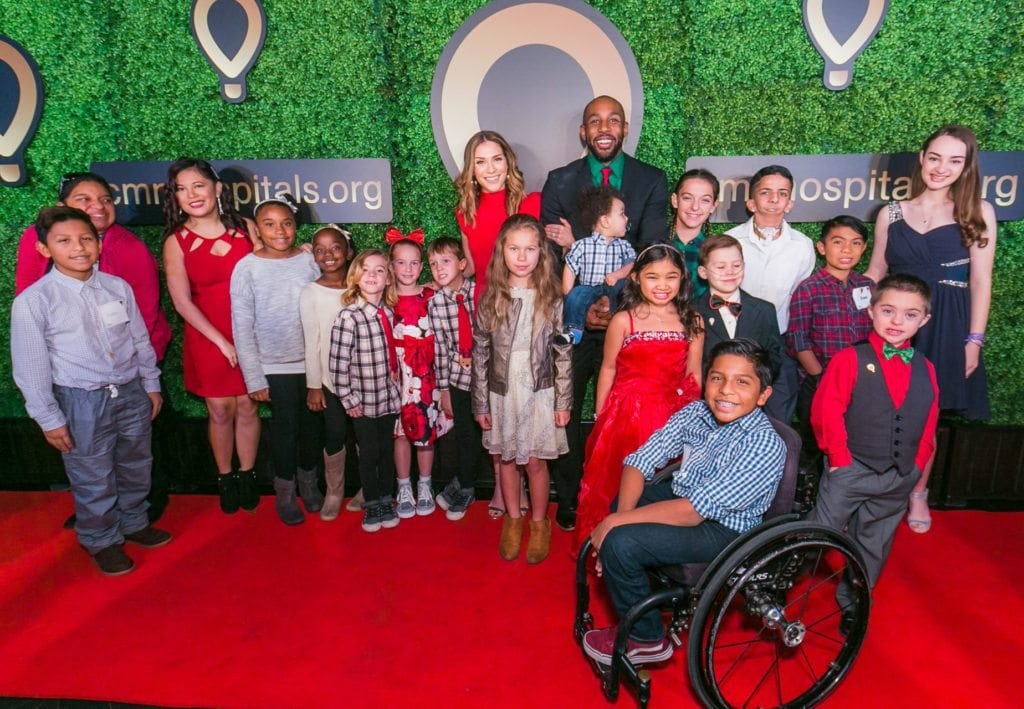 LOS ANGELES (Dec. 19, 2016) — On Saturday, December 17, 2016, dance power couple Allison Holker and Stephen 'Twitch' Boss co-hosted pediatric patients at the Dance For Kids Holiday Party presented by Children's Miracle Network Hospitals. Allison and Twitch's holiday giving campaign is aimed at raising funds and awareness for the 10 million children treated every year at 170 Children's Miracle Network Hospitals across North America. Learn more at www.danceforkids.org
Hollywood's brightest stars and their children joined Allison and Twitch at Avalon Hollywood to spend a fun-filled day with inspiring patients from member hospitals Children's Hospital Los Angeles and Children's Hospital Orange County at the Dance For Kids Holiday Party. It was a family affair for Oscar Nunez, Ali Fedotowsky, Babyface, Dean Cain, Arianne Zucker, Perez Hilton, Pooch Hall, Patricia Velasquez, Skyler Stone and Kimberly Caldwell, who all brought their kids to enjoy the party. The red carpet was packed with stars sharing messages of hope and holiday wishes to patients at local children's hospitals all over the country.
Actor and comedian Adam Devine was reunited with his Miracle Kid co-star Angelica Hale from the "Superheroes For Kids" campaign. Paralympian medalist Amy Purdy was reunited with her Miracle Kid buddy Nate Ferrell whom she shared a dance with at last year's holiday party. Becca Tilley from "The Bachelor" enjoyed taking holiday photos with Miracle Kids and friends at the party. Recording artist and CMN Hospitals teen ambassador, Alli Simpson, said she looks forward to the CMN Hospitals holiday party every year.
Miracle Kids and celebrities showed off their hottest dance moves in CMN Hospitals' social media dance booth. Fans from all over the world tuned in to the fun during DanceOn's live-stream of the party hosted by Steven Helmkamp, Allison and tWitch introduced guests to 13-year-old Emma from Avon, Indiana, who dances with Infinity Dance Academy and was the top fundraiser in their Dance For Kids holiday giving campaign. Emma sold custom T-shirts to support her local children's hospital, inspired by her Miracle Kid friend Maison who is treated there.
Guests were treated to two incredible musical performances. Miracle Kid Angelica Hale, age 8, sang Mariah Carey's holiday classic, "All I Want For Christmas Is You" and left everyone in awe of her stunning voice. Miracle Kid Isaiah Acosta, who was born without a jaw and the ability to speak, inspired everyone at the party when he took to the stage with Rap artist Trap House to perform his original hip-hop song "Oxygen To Fly." The combination of Trap House spitting fire on Isaiah's powerful lyrics while Isaiah commanded the stage and felt every beat of the music, left everyone in the room riveted. It was a powerful moment for Isaiah to share his story using the power of music and to feel the love and support of CMN Hospitals supporters.
The party was kicked into high gear when Miracle Kids Angelica, Nate, Jordin, Maison and Asher shared their signature dance moves. The crowd went wild, cheering the Miracle Kids on! Allison and Twitch taught everyone the Dance For Kids morale dance, which was made up from combining the Miracle Kids signature moves. DJ Bizzy kept the dance-floor packed as over five hundred guests grooved to the hottest hits. Actors Aldis Hodge, Edwin Hodge and Brian White joined professional dancers Comfort Fedoke, Carmit Bachar and Brittany Cherry and Miracle Kids for dance circles and battles hyped by Allison and Twitch.
Child stars Faithe Herman, Eris Baker, Lonnie Chavis and Mackenzie Hancsicsak and co-stars from the NBC hit show "This Is Us", enjoyed meeting Santa and taking photos together. Nadja Ayala, Miracle Kid and star of the new movie "The Bounce Back" said she felt a real sense of community at the Dance For Kids holiday party.
Guests were transported into a magical and festive ambiance where they enjoyed face painting, glitter hair braids, caricatures, balloon art, and a holiday themed photo booth by FLIPBOOTH. Good Works Makes A Difference gifted partygoers with gorgeous inspirational jewelry. Partygoers created their own holiday cards with Tiny Prints and decorated holiday ornaments with Kona Ice.
Everyone enjoyed a hot chocolate and coffee bar hosted by Coffee Bean & Tea Leaf, an organic juice bar by Suja, custom shaved ice treats by Kona Ice, and delicious cotton candy by Love Swirls. Guests were treated to a gourmet lunch served by Avalon's executive chef with hydration powered by AQUAHyrdate.
Children's Miracle Network Hospitals® raises funds and awareness for 170 member hospitals that provide 32 million treatments each year to kids across the U.S. and Canada. Donations stay local to fund critical treatments and healthcare services, pediatric medical equipment and charitable care. Since 1983, Children's Miracle Network Hospitals has raised more than $5 billion, most of it $1 at a time through the charity's Miracle Balloon icon. Its various fundraising partners and programs support the nonprofit's mission to save and improve the lives of as many children as possible. Find out why children's hospitals need community support, identify your member hospital and learn how you can Put Your Money Where the Miracles Are at cmnhospitals.org and facebook.com/CMNHospitals.
MEDIA CONTACTS:
Amy Malin amym@trueheartevents.com /818-672-1268
Heidi Shepherd hshepherd@cmnhospitals.org /801-725-2665
Downloads
Dance For Kids Holiday Party hosted by Twitch & Allison
Dance For Kids Holiday Party hosted by Twitch & Allison
Celebrities attended a holiday dance party in support of Children's Miracle Network Hospitals. View red carpet interviews with Adam DeVine, tWitch Boss, Allison Holker, Kenneth 'Babyface' Edmonds, Ali Fedotowsky, Dean Cain, Amy Purdy, Perez Hilton, "This Is Us" stars and others as they share why they support children's hospitals and give messages of hope to pediatric patients.
Allison, Twitch and CMN Hospitals Miracle Kids
Allison, Twitch and CMN Hospitals Miracle Kids
© 2016 Albert Evangelista Photography
Allison and Twitch with their family
Allison and Twitch with their family
© 2016 Albert Evangelista Photography
Adam DeVine supporting CMN Hospitals
Adam DeVine supporting CMN Hospitals
© 2016 Albert Evangelista Photography
Alli Simpson supporting CMN Hospitals
Alli Simpson supporting CMN Hospitals
© 2016 Albert Evangelista Photography
Ali Fedotowsky and daughter Molly supporting CMN Hospitals
Ali Fedotowsky and daughter Molly supporting CMN Hospitals
© 2016 Albert Evangelista Photography
Dean Cain and son Christopher supporting CMN Hospitals
Dean Cain and son Christopher supporting CMN Hospitals
© 2016 Albert Evangelista Photography
"This Is Us" stars Lonnie Chavis, Eris-Baker, Faithe Herman and Mackenzie Hancsicsak supporting CMN Hospitals
"This Is Us" stars Lonnie Chavis, Eris-Baker, Faithe Herman and Mackenzie Hancsicsak supporting CMN Hospitals
© 2016 Albert Evangelista Photography
Kenneth "Babyface" Edmonds, Nikki Edmonds and family supporting CMN Hospitals
Kenneth "Babyface" Edmonds, Nikki Edmonds and family supporting CMN Hospitals
© 2016 Albert Evangelista Photography
Perez Hilton and family supporting CMN Hospitals
Perez Hilton and family supporting CMN Hospitals
© 2016 Albert Evangelista Photography
CMN Hospitals Miracle Kid Maison dances with actor Pooch Hall and his Miracle Kid daughter Djanai Igor
CMN Hospitals Miracle Kid Maison dances with actor Pooch Hall and his Miracle Kid daughter Djanai Igor
© 2016 Albert Evangelista Photography
Brian White and Sammi Rotibi enjoy CMN Hospitals Miracle Child performance
Brian White and Sammi Rotibi enjoy CMN Hospitals Miracle Child performance
© 2016 Albert Evangelista Photography
"The Bachelorette" Becca-Tilley and CMN Hospitals Miracle Kid Nate-Ferrell
"The Bachelorette" Becca-Tilley and CMN Hospitals Miracle Kid Nate-Ferrell
© 2016 Albert Evangelista Photography
CMN Hospitals Miracle Kid Isaiah Acosta and rap artist Trap House
CMN Hospitals Miracle Kid Isaiah Acosta and rap artist Trap House
© 2016 Albert Evangelista Photography
Dance circle at the Dance For Kids holiday party
Dance circle at the Dance For Kids holiday party
© 2016 Albert Evangelista Photograph
Allison and Twitch with son and Miracle Kid Maison
Allison and Twitch with son and Miracle Kid Maison
© 2016 Albert Evangelista Photograph
Miracle Kid Angelica Hale with Allison, Twitch and their son, Maddox
Miracle Kid Angelica Hale with Allison, Twitch and their son, Maddox
© 2016 Albert Evangelista Photograph
Dance For Kids Party Atmosphere
Dance For Kids Party Atmosphere
© 2016 Albert Evangelista Photograph