Animal Planet's Tanked Features Member CMN Hospital Getting New Aquarium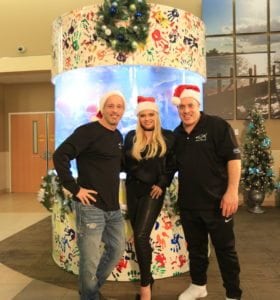 SALT LAKE CITY (Dec. 16, 2016) — One Children's Miracle Network Hospital received the ultimate holiday gift from Animal Planet's Tanked. The show's season finale, airing Friday, Dec. 16 at 10 p.m. EST, featured a salt water aquarium gifted to Hurley Children's Hospital in Flint, Michigan, by singer and Radio Disney host Alli Simpson.
As the Teen Ambassador for Children's Miracle Network Hospitals, Simpson is passionate about helping sick and injured kids and wanted to help bring joy to a community that has endured devastating health news over the past year.
Aquarium features include landmarks representing the area, hot air balloons representing Children's Miracle Network Hospitals and a special fish feature in honor of Pagie, a patient who was treated at Hurley Children's before losing her life to stage 4 neuroblastoma, just after her third birthday.
"We are so excited and grateful to Children's Miracle Network Hospitals, Alli Simpson and Animal Planet's TANKED team for gifting us with this amazing aquarium," Melany Gavulic, RN, MBA, president and CEO, Hurley Medical Center. "It will provide relaxation and enjoyment for patients, visitors and staff alike. Our youngest patients will recognize this as an extension of our under-the-sea theme in the rest of our pediatric areas. This tank is an expression of how proud we are to be a Children's Miracle Network Hospital."
Hurley Children's Hospital is one of 170 Children's Miracle Network Hospitals across the U.S. and Canada. Insurance and government programs do not cover the full cost of providing care for kids, so Children's Miracle Network Hospitals, a charity organization, helps raise local funds to make up those costs. Member hospitals use those funds where they are needed most, providing life-saving equipment and vital services that benefit local kids. Donations to Hurley Children's Hospital ensure kids in mid-Michigan communities have exceptional medical and preventative care. For example, a portion of donations provide vouchers for patients and families at Hurley Children's Center-Sumathi Mukkamala Children's Center, enabling them to purchase fresh produce at the Flint Farmers' Market.
Visit CMNHospitals.org/Tanked to learn more about the show and how to support Children's Miracle Network Hospitals, including Hurley Children's Hospital.
About Hurley Children's Hospital
Hurley Children's Hospital provides outstanding patient and family centered care for our region's youngest patients, including Pediatric Intensive Care, Pediatric Oncology, a nationally recognized Asthma program, Genesee County's highest level Neonatal Intensive Care Unit (Level III) and a separate dedicated Pediatric Emergency Room, along with a multitude of pediatric sub-specialties. Hurley Children's Hospital maintains academic affiliations with Michigan State University, the University of Michigan-Ann Arbor, the University of Michigan-Flint, Mott Community College, Henry Ford Health System, and Children's Hospital of Michigan DMC, and cares for more than 60,000 pediatric patients annually.
About TANKED
In the Animal Planet series TANKED, Las Vegas-based Acrylic Tank Manufacturing (ATM), one of the country's most successful builders of aquariums, and co-owners Wayde King and Brett Raymer, two of Sin City's most imaginative businessmen are tasked with building enormous and awe-inspiring tanks and aquariums for top celebrities, luxury hotels and casinos, Fortune 500 businesses, private homes and homeowners across the country. ATM takes on more than 200 projects every year with tanks ranging from 50 to five million gallons in size that feature the most exotic, unusual, colorful and dangerous fish in the world.
About Children's Miracle Network Hospitals
Children's Miracle Network Hospitals raises funds and awareness for 170 member hospitals that provide 32 million treatments each year to kids across the U.S. and Canada. Donations stay local to fund critical treatments and healthcare services, pediatric medical equipment and charitable care. Since 1983, Children's Miracle Network Hospitals has raised more than $5 billion, most of it $1 at a time through the charity's Miracle Balloon icon. Its various fundraising partners and programs support the nonprofit's mission to save and improve the lives of as many children as possible. Find out why children's hospitals need community support, identify your member hospital and learn how you can Put Your Money Where the Miracles Are at cmnhospitals.org and facebook.com/CMNHospitals.
About Alli Simpson
It's rare to see a young female in entertainment be willing to put herself out there in so many different facets of the business, from acting and modeling to music and even hosting her own weekly 3-hour radio show (The Alli Simpson Show) on Radio Disney as well as serving as Teen Ambassador for the Children's Miracle Network Hospitals. The 18-year-old Alli Simpson is not only the youngest nationally syndicated radio host but has built millions of followers on social media through her fun, relatable and accessible personality that bridges the gap between celebrity and listeners by developing genuine connections and conversations online and through her radio show. Alli recently represented Team Australia in the torch relay at the 2016 Olympics in Rio and is currently in the studio working on new music for 2017.
Downloads
Wayde King and Brett Raymer of Animal Planet series TANKED with Alli Simpson
Wayde King and Brett Raymer of Animal Planet series TANKED with Alli Simpson