Tim Hawley of International Dairy Queen Appointed Chair of CMN Hospitals Board of Governors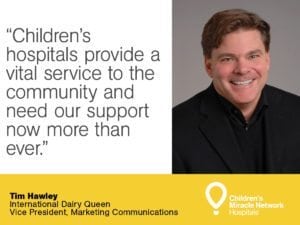 SALT LAKE CITY (January 12, 2017) — Children's Miracle Network Hospitals, a charity raising funds and awareness for 170 children's hospitals across North America, recently named Tim Hawley of International Dairy Queen as chairperson of its Board of Governors.
Hawley, vice president, marketing communications at International Dairy Queen, leads and manages all national and regional marketing efforts, internal communications, corporate outreach and giving programs. His longtime support of CMN Hospitals will continue as he leads the charity's Board of Governors and lends his expertise to improve healthcare for kids across North America.
"Children's hospitals provide a vital service to the community and need our support now more than ever," said Hawley. "As a father, I'm personally connected to this cause and have seen what miracles happen when individuals and corporations give to the local Children's Miracle Network Hospital."
In his new role, Hawley will lead the Board to help support the fundraising, development and awareness functions of CMN Hospitals, promote the cause of children's hospitals throughout the business community and help attract companies to support the organization's mission of saving and improving kids' lives.
About Children's Miracle Network Hospitals
Children's Miracle Network Hospitals® raises funds and awareness for 170 member hospitals that provide 32 million treatments each year to kids across the U.S. and Canada. Donations stay local to fund critical treatments and healthcare services, pediatric medical equipment and charitable care. Since 1983, Children's Miracle Network Hospitals has raised more than $5 billion, most of it $1 at a time through the charity's Miracle Balloon icon. Its various fundraising partners and programs support the nonprofit's mission to save and improve the lives of as many children as possible. Find out why children's hospitals need community support, identify your member hospital and learn how you can Put Your Money Where the Miracles Are, at CMNHospitals.org and facebook.com/CMNHospitals.