Panda Express, GIANT Food Stores and Speedway Recognized During Children's Hospitals Week
Children's Miracle Network Hospitals Announces Corporate Partner of the Year, Corporate Person of the Year and Local Corporate Person of the Year
SALT LAKE CITY, UT (April 16, 2019) — Children's Miracle Network Hospitals (CMN Hospitals) recently recognized outstanding partnerships and personal commitments to supporting the network of member children's hospitals at Children's Hospitals Week in Orlando, Fla.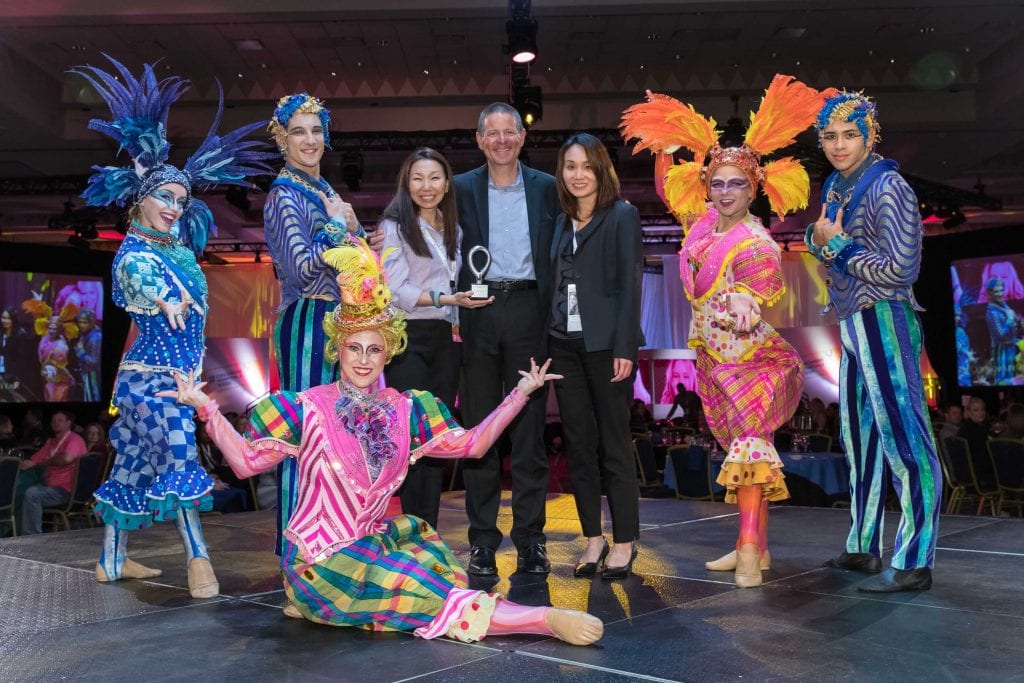 Corporate Partner of the Year
Panda Express, the largest family-owned American Chinese restaurant concept in the United States, was named the 2018 Corporate Partner of the Year. The Corporate Partner of the Year award recognizes an outstanding organization that has demonstrated extraordinary commitment to CMN Hospitals or Foundations through innovative fundraising and awareness initiatives.
In 2018, Panda Express raised $21.6 million – a $6 million increase over 2017 – resulting in a 39% increase over the previous year. Panda Express stores raised an average of $10,291 per location for their local hospitals. Over their 16-year partnership with CMN Hospitals, Panda Express has raised $59 million through their in-store donation program at the register, associate giving campaign and annual charity golf tournaments.
Powered by more than 39,000 associates of Panda Restaurant Group, the organization's philanthropic arm Panda Cares is committed to bettering the health and education of youths as well as supporting communities in need. In 1999, Panda Restaurant Group established Panda Cares to live up to its mission of inspiring better lives by giving back to the community and creating a brighter future for generations to come.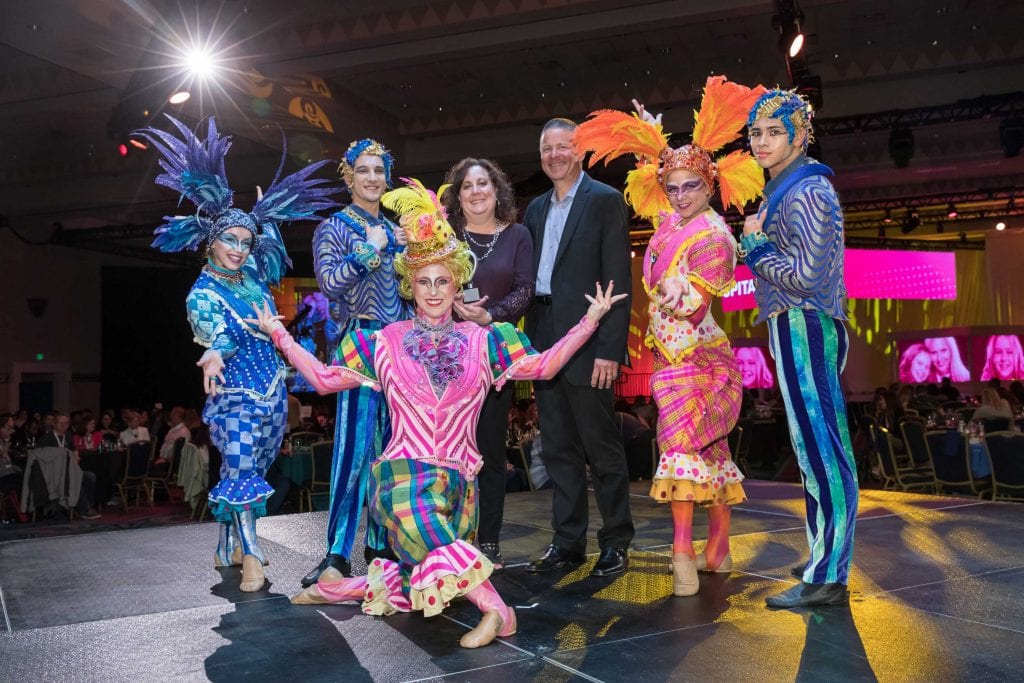 Corporate Person of the Year
This award recognizes an individual working at the corporate, national, regional or district level of a CMN Hospitals partner. The recipient of this award, Debbie Hill, an employee of Retail Business Services, which provides support to GIANT Food Stores and five other local brands of Ahold Delhaize USA, has shown great leadership and innovation during fundraising campaigns for non-profits.
Hill is the Ahold Delhaize USA Family Foundation's manager. She plays a critical role in supporting the Foundation's fundraising initiatives, which support the philanthropic efforts of GIANT Food Stores and other local brands of Ahold Delhaize USA. One of the projects under her purview, an annual golf outing, benefits seven CMN Hospitals, among other charities.
Each year, Hill spearheads a committee and team of volunteers to host the signature fundraising event in Hershey, Penn. The weekend brings together 500 vendors and 2,000 golfers to celebrate the CMN Hospital's partnership with GIANT Food Stores. The event, held at 13 golf courses, features pediatric patients treated in member hospitals, media personalities and local titleholders.
In 2018, the event raised nearly $1 million for CMN Hospitals.
Hill's involvement with the effort is unending and she inspires colleagues, suppliers and customers to join her in supporting CMN Hospitals.
As GIANT Food Stores celebrated its 95th anniversary in 2018, the company was pleased to honor its community partners who have helped the company grow and make a true difference in the communities it serves. Three CMN Hospitals received special gifts, totaling $1 million: Children's Hospital of Philadelphia received $570,000; Penn State Health Children's Hospital was awarded $280,000; and Janet Weis Children's Hospital was granted $150,000. In addition to organizing the donations, Hill played a critical role in planning and executing special announcement events for each.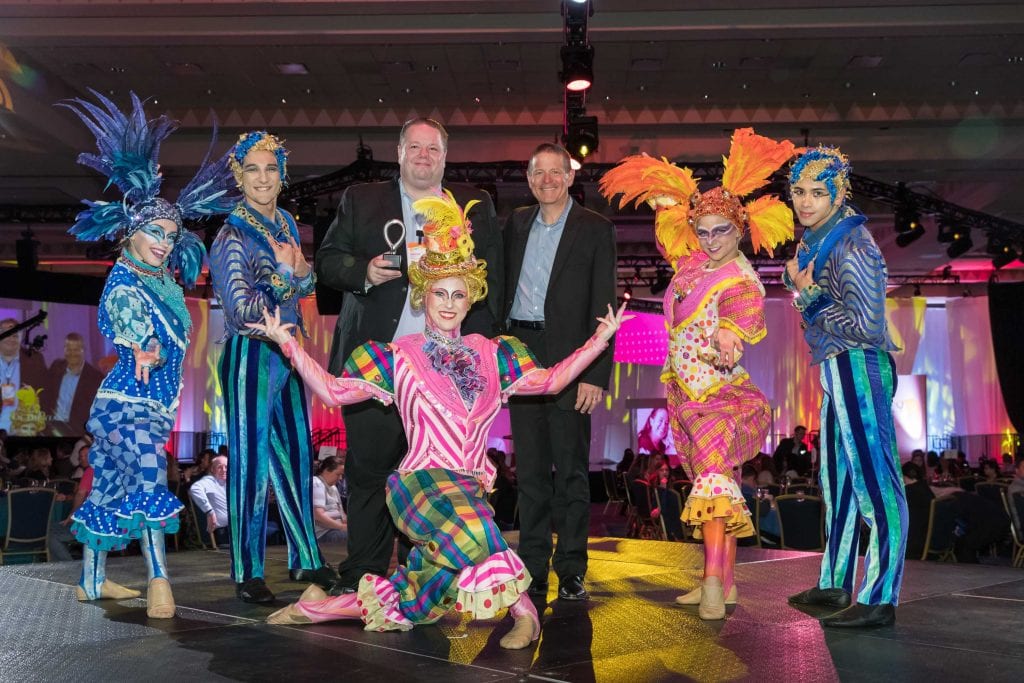 Local Corporate Person of the Year
This award recognizes an individual at the grassroots level associated with a CMN Hospitals corporate partner, whose tireless efforts have made a difference in the lives of kids served by their local CMN Hospital.
Wayne Bartley, Speedway's New England Region Manager, is the 2018 Local Corporate Person of the Year. Bartley has elevated the awareness and fundraising efforts by assembling a CMN Hospitals committee of local leadership representatives that meet on a continuous basis to discuss how to improve their fundraising efforts by making them energetic, full of passion and with a great sense of urgency.
Bartley recently moved from the most successful fundraising market for Speedway to take his current position. As part of his role as Region Manager, he helps set the tone for Speedway's philanthropic efforts in the Northeast, where he has continued to be an outstanding leader in fundraising. He brought with him an unwavering understanding that fundraising for their local Children's Miracle Network Hospitals should be a best practice.  He has helped his local CMN Hospital creatively engage the stores on a monthly basis with a dedicated two-day push fundraising effort.
About Panda Express
On a mission to inspire better lives, Panda Express, an American Chinese original, is the largest Asian dining concept in the U.S. Founded and family-owned and operated since 1983, it is best known for creating a wide variety of industry-first recipes, including its best seller Original Orange Chicken® and award-winning Honey Walnut Shrimp™, which have defined the category of authentic American Chinese cuisine. Each dish at Panda Express, including the better-for-you Wok Smart™ selections, is thoughtfully crafted with quality ingredients inspired by bold Chinese flavors and culinary principles. The restaurant brand has more than 2,200 locations throughout the U.S. and has introduced American Chinese cuisine to more than a dozen international countries. Powered by this global family of associates, Panda Cares, the organization's philanthropic arm, has contributed more than $140 million and countless volunteer hours in bettering the health and education for over 12 million youths as well as supporting communities in need since 1999. For more information, visit pandaexpress.com, or follow on Facebook, Twitter or Instagram.
 About GIANT Food Stores, LLC
Founded in 1923 in Carlisle, Pennsylvania, GIANT Food Stores, is passionate about building strong families and healthy communities. With a customer-centric approach in all it does, GIANT serves millions of families across Pennsylvania, Maryland, Virginia and West Virginia through its more than 170 neighborhood stores, 132 pharmacies, 99 fuel stations and its online grocery ordering and delivery services. GIANT Food Stores is proud to employ more than 30,000 associates who believe in giving back to their community and over the last five years, GIANT, with the help of its customers and vendor partners, has proudly donated more than $100 million to local nonprofits. The GIANT Family of Brands includes GIANT, MARTIN'S Food Markets, GIANT Heirloom Market, and GIANT DIRECT, Powered by Peapod. GIANT Food Stores is a company of Ahold Delhaize USA. For more information visit the GIANT or MARTIN'S websites.
 About Speedway 
Speedway is the nation's second largest company-owned and -operated convenience store chain with nearly 4,000 retail convenience stores across the United States. Headquartered in Enon, Ohio, Speedway is a subsidiary of Marathon Petroleum Corporation (NYSE: MPC). For more information, visit www.speedway.com.
About Children's Miracle Network Hospitals
Children's Miracle Network Hospitals® raises funds and awareness for 170 member hospitals that provide 32 million treatments each year to kids across the U.S. and Canada. Donations stay local to fund critical treatments and healthcare services, pediatric medical equipment and charitable care. Since 1983, Children's Miracle Network Hospitals has raised more than $5 billion, most of it $1 at a time through the charity's Miracle Balloon icon. Its various fundraising partners and programs support the nonprofit's mission to save and improve the lives of as many children as possible. Find out why children's hospitals need community support, and learn about your member hospital, at CMNHospitals.org and facebook.com/CMNHospitals.