Mattie Dunn of Cincinnati Children's receives 2020 Child Life Specialist of the Year award
Children's Miracle Network Hospitals is pleased to announce that Mattie Dunn is the recipient of the second annual Child Life Specialist of the Year award.
Presented by Delta Air Lines, Dunn was chosen from a select group of child life specialists nominated by Children's Miracle Network Hospitals member hospitals from across the United States in recognition for her outstanding service and commitment to patients.
As an employee of Cincinnati Children's for 30 years and a child life specialist for the past seven years, Dunn empowers children and families as they navigate complicated and emotional journeys with psychiatric, behavioral and developmental disabilities. Because standard medical procedures like blood draws or MRIs can be daunting for a nonverbal or disabled patient, their family and hospital staff, Dunn acts as an advocate to identify and accommodate the individual needs of her patients.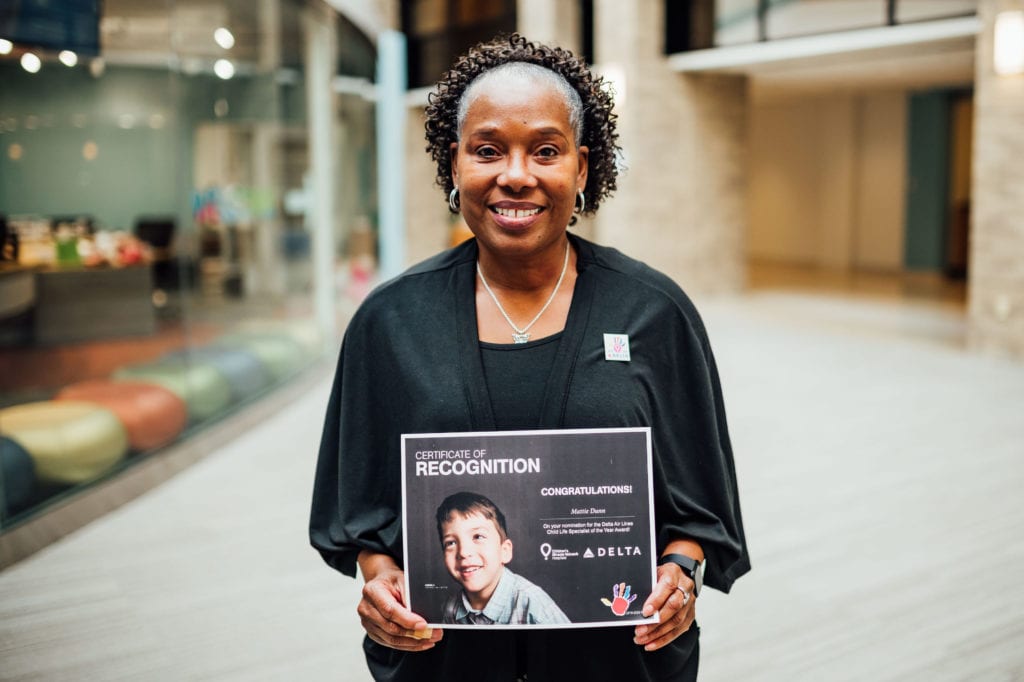 Her creative and personalized approach eases a child's anxiety and fear while delivering first-rate medical and emotional care. Dunn's attendance to her patients, her optimism and tireless work ethic inspired her entire community.
As the winner of the Child Life Specialist of the Year award, Dunn received two round-trip Delta tickets. The airline also made a $15,000 donation to Cincinnati Children's in honor of Dunn.
To meet Mattie and learn more about her work as a Child Life Specialist, watch here. *Video footage filmed prior to the pandemic.
Delta Air Lines, in partnership with CMN Hospitals, created the Child Life Specialist of the Year award to honor and recognize the hard work and compassion of Child Life Specialists and the critical services they provide for hospitalized children and their families, along with bringing awareness to the need for child life funding at children's hospitals.
Child Life Specialists help normalize the hospital experience and bring joy and comfort to pediatric patients and their families. Many of the funds raised by CMN Hospitals are used to fund Child Life programs and help make up the gap between what government and insurance pay for and the actual cost of caring for kids in our member hospitals.