Eleven Pediatric Patients Recognized as Children's Miracle Network Hospitals National Champions
Families dedicated to paying it forward, creating a world of opportunity for kids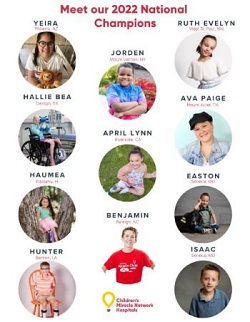 SALT LAKE CITY, UTAH (MARCH 23, 2022) – Children's Miracle Network Hospitals (CMN Hospitals) has recognized 11 children across the country as 2022 National Champions for their dedication to pay it forward. Through first-hand experiences, these champions and their families show just how vital local, unrestricted fundraising is for children's hospitals to meet the needs of their communities.
Children's hospitals are on the frontlines when it comes to improving the health of future generations. Every day, they provide high-quality, specialized, compassionate care to millions of kids in need – but they can't do it alone. CMN Hospitals is a nonprofit that supports them in this role by raising funds for 170 children's hospitals in the U.S. and Canada.
Every year, CMN Hospitals recognizes a select number of children and families who have been treated at one of the local hospitals of CMN Hospitals and are advocates for kids' health.
"All of these families are unified around a mission to raise awareness and funds for our member children's hospitals across the country, who've been on the frontlines of the pandemic for more than two years," said Teri Nestel, president & CEO of CMN Hospitals. "Kids can't wait until the pandemic is over. It's time to prioritize our children's hospitals and support them in their struggles to continue to provide high quality, compassionate care for children."
The 11 National Champions for 2022 span across 10 different U.S. cities. Each of them is a story of courage and perseverance, who has benefited from the dedication of expert care teams and the support of advanced medical equipment, services and programs funded by CMN Hospitals.
Meet the 2022 Children's Miracle Network Hospitals National Champions:
April Lynn, age 9 of Orange, CA was 15 months old when diagnosed with septic shock. Doctors at Children's Hospital of Orange County saved her life but could not save her leg to infection. April continues to receive treatment for primary immune disorder, has a prosthetic leg, performs in local theaters and is an active participant in CMH Hospitals' Dance Marathon.
Ava Paige, age 17 of Nashville, spent 47 days in Monroe Carell Jr. Children's Hospital at Vanderbilt after being diagnosed with acute lymphoblastic leukemia. After two-and-a-half years of treatment, she was declared cancer-free. Ava is a singer-songwriter who performs across the country.
Benjamin, age 16 of Raleigh, NC, has a rare, incurable bone disorder (chronic, recurrent, multifocal osteomyelitis) that causes excruciating bone pain. The care team at Duke Children's Hospital, including CMN Hospitals-funded child life specialists, provide treatment and comfort that allow him to attend high school, Boy Scouts, to swim, and to care for his family's chickens.
Hallie Bea, age 13 of Fort Worth, TX, was born with a rare anemia disorder that causes bone marrow failure. After a bone marrow transplant at age 10 at Cook Children's Medical Center, she was diagnosed with osteosarcoma, a cancer in her thigh bone, leading to amputation of her left leg. Hallie's nonprofit, Hallie's Heroes, encourages people to register as bone marrow donors and advocates for kids with cancer.
Haumea, age 7 of Honolulu, has a rare, complex birth defect that caused malformation of the femur bone in her thigh, making one leg shorter than the other. More than 10 surgeries at Kapi'olani Medical Center for Women & Children have allowed her to be fit with a prosthesis to give her the ability to walk.
Hunter, age 12 of Shreveport, LA, was born with a spinal birth defect (spina bifida). He's endured 28 surgeries and re-learned to walk four times through many hours of physical and occupational therapy at CHRISTUS Shreveport-Bossier Health System. His mom says "can't" isn't part of Hunter's vocabulary.
Isaac and Easton, 7-year-old twins of Joplin, MO, were born at just 26 weeks, spending five months in the neonatal intensive care unit at Freeman Health System. Isaac has autism, receiving therapies for sensory issues and medication for seizures. Easton has cerebral palsy with left-side weakness, receiving therapy and using braces and a walker. CMN Hospitals funding helps them with medical equipment, travel assistance and a therapy dog.
Jorden, age 10 of Westchester, NY, nearly died two years ago from a serious complication (multisystem inflammatory syndrome) associated with COVID-19. He spent 28 days in Maria Fareri Children's Hospital on a breathing ventilator, on an ECMO (extracorporeal membrane oxygenation) machine, and having surgery to create a hole in his heart to help his heart and lungs heal. Jorden fought back, learning to eat again and regaining his strength through rehabilitation.
Ruth-Evelyn, age 9 of St. Paul, MN, was born without arms. With the help of physical, occupational and speech therapists, and orthotics and prosthetic specialists at Gillette Children's Specialty Healthcare, she's learned to do everything with her feet, including drawing, dressing, clogging, swimming and riding a custom bicycle designed by her caregivers.
Yeira, age 17 of Phoenix, depends upon ongoing care from the team at Phoenix Children's Hospital to keep her alive. Born with a very rare gastrointestinal disease, she receives daily nutrition through her veins, and daily treatment to combat fluid retention and tissue swelling. She has survived several life-threatening experiences. Yiera calls the hospital her second home, enjoying the in-hospital school, playrooms and therapy dogs available to her there through CMN Hospitals' funding.
Media assets can be found here.
Visit cmnhospitals.org, to learn more about how Children's Miracle Network Hospitals and its network support the health of 10 million kids each year. Donations go to local hospitals to fund life-saving treatments, innovative research, vital medical equipment, child life services and financial assistance for kids and families. Together, we can change kids' health. Together, we can change the future.
# # #
About Children's Miracle Network Hospitals:
Children's Miracle Network Hospitals® raises funds for 170 children's hospitals that support the health of 10 million kids each year across the U.S. and Canada. Donations go to local hospitals to fund critical life-saving treatments and healthcare services, along with innovative research, vital pediatric medical equipment, child life services that put kids' and families' minds at ease during difficult hospital stays and financial assistance for families who could not otherwise afford these health services. When we improve the health of all children and allow them the opportunity to reach their full potential, we also improve our communities for years to come. Together, we can change kids' health. Together, we can change the future. To learn about Children's Miracle Network Hospitals and your local children's hospital, visit cmnhospitals.org.